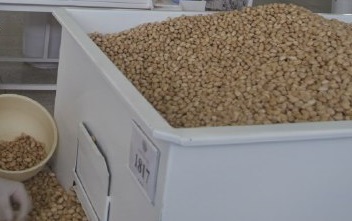 If you want to buy cheap bulk pistachios, it's best to get acquainted with them in the first step. Understanding the types of cheap pistachios can be helpful in choosing the best option for your target market.
The most important category of cheap bulk pistachios, are mechanically opened pistachios. We would like to explore this group of pistachios in more detail in this article. We explain the most important issue below.
Mechanically open pistachios for cheap bulk pistachios wholesale
What is the difference between mechanically open pistachios and other pistachios? Which made them rank cheap bulk pistachios?
We can explain this with a parameter that is the most important criterion in the ranking of the quality of mechanical pistachios. What is this parameter? It's the brain percentage of pistachio.
In the case of all fruits in the shell and wooden shells, such as pistachios, one of the most important parameters is the ratio of the weight of the brains to the weight of the fruit. The larger this proportion means more pistachio kernels. So pistachio has a higher quality.
Naturally open pistachios often have a large brain. So that some brain out of the shell skin. In fact, the ratio of the weight of the pistachios brain to the pistachio fruits is often high. The percentage of brains naturally open pistachios are often over 54%.
This is while the ratio of pistachio kernels weight to pistachio itself is lower in mechanically open pistachios. And about 45 to 50 percent. That is, from 100 grams of pistachios, about 45 to 50 grams are brain.
The most important reason that mechanically open pistachios are in the pink rows of cheap pistachios is this issue. Mechanically opened pistachios are graded according to the same parameter in several qualities. The high percentage of brains means higher pistachio quality. Now that you are familiar with an important group of cheap pistachios, you can make a better decision to buy cheap bulk pistachios and choose the best option.
Our way of communication: Please contact us.
Also our product list: The Catalog.
https://anatanuts.com/wp-content/uploads/2018/06/cheap-bulk-pistachios.jpg
221
352
leyla nematzade
http://anatanuts.com/wp-content/uploads/2017/09/Picture1-300x286.png
leyla nematzade
2018-06-18 09:30:27
2018-06-18 09:42:01
cheap bulk pistachios wholesale