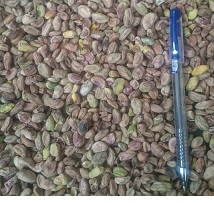 Meat kernel pistachios is a component of the cheap pistachio kernels that is used to produce pistachio products. Including pistachio powder, pistachio butter and ….
The pistachios are classified into several different groups. In this category, we consider several parameters. Contains:
The type of pistachio we use to process the brain.
The type of processing done on the pistachio brain
The quality of pistachio kernels produced from processing
Accordingly, the following groups of pistachios are obtained. These pistachios have a big difference. That's why the price difference between them is also high. For example, some of them are from of the cheap pistachios, and some are also in the expensive pistachio group.
A variety of cheap pistachio kernels
The pistachio kernels are:
Unripe pistachio kernels
Wild pistachios
Also natural pistachio kernels
Crushed pistachio kernels
Meat kernels
Among the above groups, Crushed pistachio kernels and Meat kernels are in the group of cheap pistachio kernels. And other categories in the high quality pistachio group.
Of course, each of the pistachio brains described above has several qualities. They have a low price difference. But the price difference between the low and high quality pistachios is very high. The following is a detailed example below this price difference. The difference between green peeled pistachio kernels and Meat kernels is around $ 20.
Our way of communication: Please contact us.
Also our product list: The Catalog.
https://anatanuts.com/wp-content/uploads/2018/07/cheap-pistachio-kernels-bulk.jpg
203
214
leyla nematzade
http://anatanuts.com/wp-content/uploads/2017/09/Picture1-300x286.png
leyla nematzade
2018-07-09 01:55:46
2018-07-08 09:31:04
cheap pistachio kernels bulk