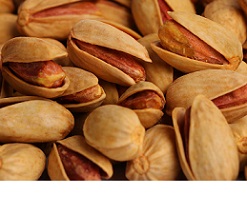 To buy organic roasted pistachios bulk, if we use flavorings to flavor pistachios, we need to use an organic flavor to avoid harm to the organic nature of the product.
The production of Organic Pistachio has grown with the worldwide consumer of this product. This product has its own customers. For example, some schools in Germany use the organic pistachios for feed children. The most important characteristics and traits of organic pistachios with typical pistachios are:
The nutritional value of most pistachios
The health level of pistachios and the lack of chemicals in its composition
Of course, other things like protecting the environment and preventing harm to other living organisms, are the benefits of organic farming, which encourages some lovers of the environment to consume organic products.
Buy organic roasted pistachios
Organic pistachio nuts are used in both raw and roasted foods, such as ordinary pistachios. The most important point to consider organic pistachios is the use of organic additives. If we use non-organic additives in flavoring of pistachio, then pistachio will not be organic product.
Therefore, it is necessary to use organic flavors in the processing of organic pistachios and flavoring it. For example, in the production of Organic Pistachio Saffron, it is necessary, in addition to the fact that the pistachio itself must be organic, the saffron used for pistachio flavoring is also organic. Or if we want to make organic pistachio with pepper-salt flavor, we also should use organic salt and pepper to flavor it.
You can contact us through the following links to purchase organic pistachios in raw and roasted models.
Our way of communication: Please contact us.
Also our product list: The Catalog.
https://anatanuts.com/wp-content/uploads/2018/08/organic-roasted-pistachios-bulk.jpg
202
247
leyla nematzade
http://anatanuts.com/wp-content/uploads/2017/09/Picture1-300x286.png
leyla nematzade
2018-08-01 08:11:51
2018-08-01 08:14:05
organic roasted pistachios bulk