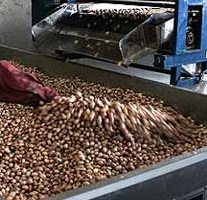 The best pistachio company is a pistachio shopper who is able to meet the buyer's needs as soon as possible. It also understands the peripheral services needed by each customer and provides them with the appropriate services.
One of the most important points in selecting the best pistachio company is pistachio merchants is the ability to supply pistachios. Pistachio company, which has the potential and power of supplying different kinds of pistachios, is one of the candidates for the best pistachio company.
The reason for this is that no pistachio importer and merchant wants to deal with the problem in a period of years in which to answer his customers. He needs to supply his product with the slightest concern when it needs to be. And reach out to our customers.
Important points in choosing the best pistachio company
One of the important points in choosing the best pistachio company is mentioned above. Other tips include the following. Given the global pistachio trade, and consumers from all over the world are purchasing this product. The pistachio company must be able to provide the buyer with the appropriate services. Including shipping insurance, product delivery to the country of destination, suitable packing and …. This is another issue that we should pay attention to in choosing the best pistachio company.
Of course, keeping pistachio country in pistachio production center is an important issue. Because in this case, it can provide, besides high power supply, the benefits of product diversity as well as reasonable prices for its customers.
Anata Nuts company has taken a solid pistachio trade by trying to meet its customers' needs and providing the above mentioned advantages. And is now ready to cooperate with all countries.
Our way of communication: Please contact us.
Also our product list: The Catalog.
https://anatanuts.com/wp-content/uploads/2018/07/best-pistachio-company.jpg
200
207
leyla nematzade
http://anatanuts.com/wp-content/uploads/2017/09/Picture1-300x286.png
leyla nematzade
2018-07-18 07:39:53
2018-07-18 04:55:11
best pistachio company