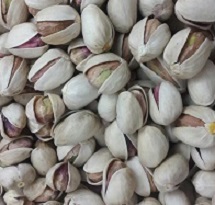 Jumbo pistachios for sale is a great option for both use as nuts and also production of pistachio kernels. Studying the characteristics of this pistachio can be a proof of its appropriateness for the processing of pistachio kernels and also the suitability for nuts.
Jumbo pistachios are a large pistachio. See the picture of this pistachio below. The jumbo pistachios seeds have the seed with 18-26 ounces. Also, jumbo pistachios have a large brain. The Being coarse kernel of jumbo pistachios have made it suitable for pistachio kernel process. Also, because of the large pistachios, its use as nut is well received.
Different countries like jumbo pistachios. And the applicant is this type of pistachio.
Aflatoxin in jumbo pistachios
Another feature of jumbo pistachios for sale is the level of contamination of this pistachio type with poisons. After Fandoghi pistachios, jumbo pistachios showed the lowest levels of aflatoxin contamination. This is the reason why jumbo pistachios are a good case for exporting to different point of the world, including the European Union.
Also, countries like the United Arab Emirates and … are among the buyers of jumbo pistachios.
Jumbo pistachios suitable for small packaging
The average size of jumbo pistachios for sale in production of the packaged pistachios is very good options. There are many things that matter when choosing a product to make packed pistachios. The size of pistachios, the appearance of pistachios and so on. The jumbo pistachios is one of the best options.
Our way of communication: Please contact us.
Also our product list: The Catalog.
https://anatanuts.com/wp-content/uploads/2018/07/jumbo-pistachios-for-sale.jpg
205
215
leyla nematzade
http://anatanuts.com/wp-content/uploads/2017/09/Picture1-300x286.png
leyla nematzade
2018-07-09 04:55:14
2018-07-09 07:08:31
jumbo pistachios for sale