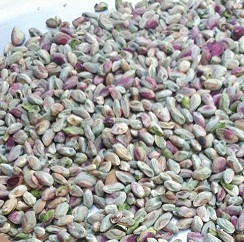 The raw green pistachio for sale in the food industry includes several pistachio kernels models. In this article, we first introduce the pistachio kernels and in the next step we will point to some of their main target markets.
The development of the use of pistachio kernels in units of food industry has been remarkable in recent years. Pistachio is one of the most popular nuts in the world, but now it can be said that, in addition to nuts, it is widely used as a nutritious and nutritious food ingredient among the owners of factories producing food. Many food manufacturers use a variety of pistachio products to improve their products.
As we have pointed out, raw green pistachio for sale to food industry units has flourished. If you also own a food industry and food producer, you need to know the raw green pistachio for sale in the first step.
Types of raw green pistachio for sale
We will list the types of pistachio kernels that are listed below in the group of green pistachios suitable for food industry units.
Green peeled pistachio kernels: We process this type of pistachio nuts from unripe pistacho kernels. By separation processing of top skin from the brain of unripe pistachios.
Unripe pistachio kernels: The brain of unripe pistachios is very tiny. But it has the green color and good taste. So, they are the favorite of the confectionery and ….
Wild Pistachio Kernels: Wild Pistachio Brain is one of the most popular pistachio kernels for use in factories producing food. Especially confectionery such as the Baklva and more love this product.
you can read the more information about these products in the catalog. Also you can contact us to register your order.
https://anatanuts.com/wp-content/uploads/2018/06/raw-green-pistachio-for-sale.jpg
242
244
leyla nematzade
http://anatanuts.com/wp-content/uploads/2017/09/Picture1-300x286.png
leyla nematzade
2018-06-09 10:25:11
2018-06-09 09:30:22
raw green pistachio for sale