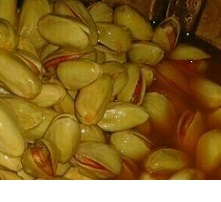 We can categorize Iran flavored pistachio nuts for sale in several models? What types of these pistachios are there? We want to buy this product and we need to get information about it.
The consumer market in different parts of the world has a different taste in choosing and consuming food. This is due to the difference in the taste of people in these areas.
For example, in buying pistachio nuts, some people like a particular model, while some do not see this model suitable for their market. This is true of the sale of pistachios, as well as the sale of flavored pistachios. Flavored pistachios are more diverse than raw pistachios. We can say that there are diversity of raw pistachios in flavored pistachios, as well as flavored pistachios themselves are classified into several groups based on the process of flavoring.
In previous articles, we have talked about raw pistachios and their grades in detail. In this article, we examine the pistachio variety in terms of the flavoring process.
Flavored pistachio nuts for sale
The most important differences between flavored pistachios are the type of flavor used. The use of various flavors in pistachio processing is common. Among them we can mention saffron, lemon juice, pepper, salt and others.
Based on the type of flavor used, flavored pistachios placed into several groups. Even manufacturers, by combining these flavors, create a new type of flavored pistachio.
In addition to the type of flavor, other issues are also important in the classification of flavored pistachios, which will be referred to in the next articles.
You can contact us to prepare all kinds of raw and flavored pistachios.
Our product list: The Catalog.
Also our way of communication: Please contact us.
https://anatanuts.com/wp-content/uploads/2018/04/Iran-flavored-pistachio-nuts-for-sale.jpg
202
221
leyla nematzade
http://anatanuts.com/wp-content/uploads/2017/09/Picture1-300x286.png
leyla nematzade
2018-04-28 20:00:43
2018-04-28 17:49:57
Iran flavored pistachio nuts for sale