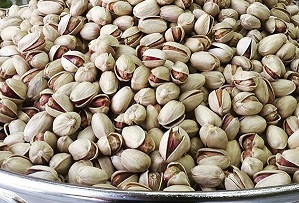 What is the bulk pistachio export price? How do exporters estimate pistachio export prices? What should we do to get the price of Iran pistachio exporters?
Iranian pistachio export price depend on product quality. Due to the different tastes that the countries have in buying pistachios, one can not define a single quality as the export quality of pistachios.
For example, some countries, such as Russia, prefer Ahmad Aghaei and Fandoghi pistachios. This is while countries like Iraq like coarse pistachios such as Akbari.
So, as you can see, Iranian exports of pistachios are very diverse. The exporter Iran's bulk pistachio export price based on the quality of pistachios.
Estimated of pistachio price per kilo

Pistachio exporters are considering the price of one pound of pistachio in the first step of the export destination. They know that people in every country what kind of pistachio love. The quality of the pistachio is determined by checking the destination and, of course, examining the buyer's request.
In addition, they also consider issues such as volume of purchase, packaging, etc. in the price announcement. And then, they announce the final price of pistachios.
How to find out the price of each kilo of Iranian pistachio?
In order to receive the price per kilo of Iranian pistachio, you must first specify the quality of your request. If you are buying pistachios from Iran for the first time, just tell the specifications you want the exporter, the company will offer the best quality exporter according to your request.
Then, by specifying the type of packaging, the volume of purchase and …, you can get the price of the pistachio.
Our Product List: Catalog.
Our Way of Communication: Please contact us.
https://anatanuts.com/wp-content/uploads/2018/01/bulk-pistachio-export-price.jpg
203
299
leyla nematzade
http://anatanuts.com/wp-content/uploads/2017/09/Picture1-300x286.png
leyla nematzade
2018-01-27 10:00:10
2018-01-27 08:11:13
bulk pistachio export price