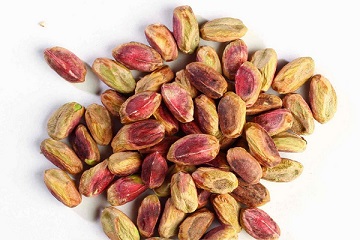 What is the bulk pistachio kernels export price? What are the characteristics of the pistachio kernels that is considered during the estimation of the pistachio kernels price per kg?
The price per kilogram of bulk pistachio brain is determined by its quality. Exporters value the quality of pistachio brain based on various parameters. Regarding the high variation of pistachio kernels, this article is about the natural pistachio kernels.
Bulk natural pistachio kernels price
In the case of the natural pistachio kernels , the following points are important:
1) The type of pistachio which the brain has been processed from it. Which can be pistachio close mouth or open shell.

2) During the processing of the brain, there is a chance of breaking its seeds. How much % broken kernels percentage? This is also something that exporters and buyers pay attention to.
3) The size of pistachio kernels: This issue is directly affected by the type of pistachio used. For example, the kernels of Kalleh Ghuchi pistachio is larger than the Fandoghi pistachio brain.
4) The pistachio nuts color: Often, the more green the pistachios are, the higher the price.
5) Pistachio flower color: Pistachio floral, with beautiful flower color are the buyer's attention. For sale as nuts are also very suitable. This issue also affects the pistachio price per kg.
6) Package type of bulk pistachio kernel: We pack pistachio kernels often in cartons of 10 and 12.5 kg. Of course, we often vacuum it before transferring to carton. Sometimes, at the request of the buyer, we put the product in 70kg bags. We also consider this parameter in announcing the final price of pistachio cereals.
Check the catalog for the type of pistachio you need. You can also contact us.
Communication to us: Please contact us.
https://anatanuts.com/wp-content/uploads/2018/01/Bulk-pistachio-kernels-export-price.jpg
240
360
leyla nematzade
http://anatanuts.com/wp-content/uploads/2017/09/Picture1-300x286.png
leyla nematzade
2018-01-27 08:00:32
2018-01-27 07:22:26
Bulk pistachio kernels export price