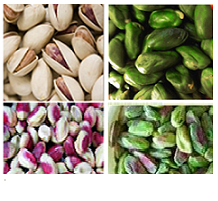 Green pistachio nuts sale are carried out in different parts of the world. The countries of China, Hong Kong, the European Union, the UAE, Turkey, Russia, Vietnam, Germany and … are among the most important markets for green pistachio nuts.
Turning people around the world into consuming high-nutritional foods in recent years has been due to increased awareness about the impact of healthy eating on health. Grain nuts are now at the center of attention of consumers around the world. And statistics show that consumption of these products, including pistachios, has increased significantly.
According to INC, pistachio consumption in different countries is as follows:
Year: 2015
Country
Consumption (MT)
119.256
Turkey
77.189
USA
59.935
Vietnam
40.000
Iran
25.148
syria
21.928
China
17.910
Germany
10.484
Belgium
9.880
Italy
7.045
Afghanestan
6.812
France
6.491
Spain
6.407
Suidi Arabia
6.218
India
Green pistachio nuts sale in Vietnam
As you can see, Turkey has the highest consumption. It is a pistachio producer. And of course, each year, they buy pistachios from Iran.

America is the second largest consumer of pistachios in the world. Each year, they spend some of their production on the domestic market and export the rest to different parts of the world.
Price of pistachio nuts Vietnam
Vietnam has third place in terms of annual consumption in 2015. Vietnam is one of the most important target markets for Iran's pistachio. Iran annually sends a significant amount of green pistachio nuts to the country. According to the Chamber of Commerce in 2017, Iran has exported more than 20,000 tons of pistachios to Vietnam.
Buy Iranian pistachio nuts
In terms of annual pistachio consumption, Iran is in fourth place. Iran is one of the largest producers and the largest exporter of pistachios in the world and annually exports a significant amount of its products. And it consumes a percentage in the domestic market.
Green pistachio nuts are also popular snacks. And also in the preparation of various types of food products. Iran, as the largest exporter of this product, supplies pistachios to various countries.
Our product list: The Catalog.
Also our way of communication: Please contact us.
https://anatanuts.com/wp-content/uploads/2018/05/green-pistachio-nuts-sale.png
201
218
leyla nematzade
http://anatanuts.com/wp-content/uploads/2017/09/Picture1-300x286.png
leyla nematzade
2018-05-02 05:37:09
2018-05-02 05:40:56
green pistachio nuts sale