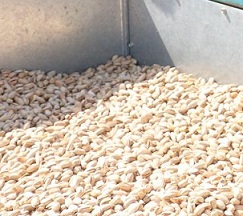 We present a statistical survey of pistachios imports from Iran to England in the article "buy bulk pistachio nuts uk". These figures indicate that there is a significant potential for growth in Iranian pistachio imports into the UK. We will also explain the quality of Iranian pistachio.
The statistics released by Customs during the past years show that the amount of pistachio shipped from Iran to the United Kingdom is low. The statistics show that the export volume is close to:
3 tons in 2017

And nearly 10 tons in 2016 and 2015.
Iranian pistachio UK
These statistics suggest that while UK's buy bulk pistachio nuts are steady but in limited quantities. The level of health and quality of Iranian pistachios is very high.Therefore, they pass strict UK standards. Of course, to ship pistachios to England, we will deliver pistachio cargo suppliers during the process of separation and processing to reach the standard.

Of course, perhaps the presence of mediators has limited the direct export of pistachios to the UK.
As we announced, Iran's pistachio has standards required for entry into countries such as the United Kingdom, Singapore, EU countries and … with their standards stricter than FAO. On the other hand, the extraordinary taste of Iran pistachios has made many people like it.
The establishment of appropriate communication channels for initiating negotiations can lead to further development of pistachios in the two countries. Between UK and Iran.

Since British businessmen are also keen on buy bulk pistachio nuts from Iran, this relationship can be positive and a good starting point for the extensive pistachio trade between Iran and England.
Our product list: The Catalog.
Also our way of communication: Please contact us.
https://anatanuts.com/wp-content/uploads/2018/04/buy-bulk-pistachio-nuts-uk.jpg
216
243
leyla nematzade
http://anatanuts.com/wp-content/uploads/2017/09/Picture1-300x286.png
leyla nematzade
2018-04-18 16:00:32
2018-04-18 08:32:02
buy bulk pistachio nuts uk