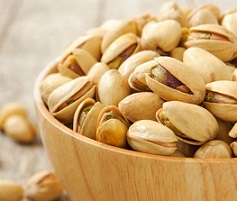 Iranian lemon pistachio for sale in the Iranian market and the international market is also one of the most sought from Iranian flavored pistachios.
Although raw pistachios have many fans, some people, including many adolescents and children, love flavoring pistachios. Among the flavored pistachios, the global markets have also been welcomed by the Iranian lemon pistachio. Many pistachio users widely welcome the use of sour lemon flavor for nuts. Of course, other flavoring pistachios also sale in the global markets, such as:
The pistachio with saffron taste have own customers such as Iraq country.
The pistachio with salt taste have own customers such as Russia country.
Also pistachio with pepper taste have own customers such as EU countries.
Of course, manufacturers produce a variety of flavoring pistachios, in addition to lemon juice, other flavoring materials such as salt, pepper, etc., which has an extraordinary flavor and aroma.
Compliance with the Standard for Iranian pistachios lemon
We know that food has a direct impact on human health. Therefore, manufacturers must carefully consider the issues and hints in their production and processing. Fortunately, due to the fact that it is one of the largest pistachio producers in the world, Iran has also expanded its field-based conversion units. Units for the processing and packaging of pistachios and their products. Including pistachios baking and flavoring units.
So Iranian pistachio lemon to sell is of high quality and is suitable for supply in all parts of the world. Countries such as the European Union or Eurasian countries, like Russia, can be very good options for the offer of Iranian pistachios.
You can also order processing and flavoring after selecting the quality you want for pistachios.
Product List of Anata Nuts Company: Catalog.
Also Our Way of Communication: Please contact us.
https://anatanuts.com/wp-content/uploads/2018/04/iranian-pistachios-lemon-for-sale.jpg
201
237
leyla nematzade
http://anatanuts.com/wp-content/uploads/2017/09/Picture1-300x286.png
leyla nematzade
2018-04-14 11:54:53
2018-04-14 05:41:50
iranian pistachios lemon for sale