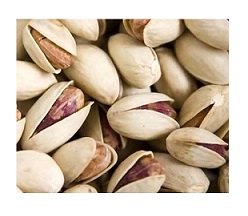 What are some tips and things to consider when buy pistachio from Iran? Pistachio trading with Iran is very easy because Iran is the world's largest pistachio exporter.
Iran has a long history of producing and exporting pistachios. Due to the large experience in pistachio production and exports, Iranian merchants know all the parameters that are needed to succeed in business and customer satisfaction. And they keep these issues in business. Therefore, trade and trade of pistachios with Iran is very easy and satisfactory. One of the most important points to consider in buying pistachios from Iran is choosing the type and quality of pistachio, due to the variety of Iranian pistachio.
Iranian pistachio types
Knowing Iran's pistachio is very simple. Iran pistachio has 5 main digits. The names of these five varieties are Fandoghi, Akbari, Ahmad Aghaei, Kalleh Ghuchi, Badami. These figures have the sizes below.
Akbari Pistachio: This pistachio has an oven number of 18-20, 20-22, 22-24 and 24-26.




Kalleh Ghuchi

: One ounce of pistachios, like Akbari, is between 18 and 26.


Fandoghi pistachios: 28-30, 30-32, 32-34, 34-36.




Ahmad Aghaei Pistachio: Pistachio Ahmad Aghaei is also often of medium size and is available in ounces between 24 and 34.




Badami Pistachio: 28-30, 30-32, 32-34.
Each pistachio variety has two types. Naturally opened and mechanically opened. In the case of mechanically opened pistachios, in addition to the size of pistachios, the percentage of the brain is also important. This can be determined during the conversation with the seller after specifying the variety, size and type.
Standards for buy pistachio from iran



In addition to the above, it is important to be aware of your country's standards for pistachio imports. Iran exports pistachios to various parts of the world, which have different standards.

For this reason, it also processes and supplies a variety of pistachios. Therefore, you need to know the standard of your country in order to prepare and deliver the product in accordance with it.
Product List of Anata Nuts Company: Catalog.
Also Our Way of Communication: Please contact us.
https://anatanuts.com/wp-content/uploads/2018/04/buy-pistachio-from-iran.jpg
216
248
leyla nematzade
http://anatanuts.com/wp-content/uploads/2017/09/Picture1-300x286.png
leyla nematzade
2018-04-13 07:45:10
2018-04-13 06:17:15
buy pistachio from iran