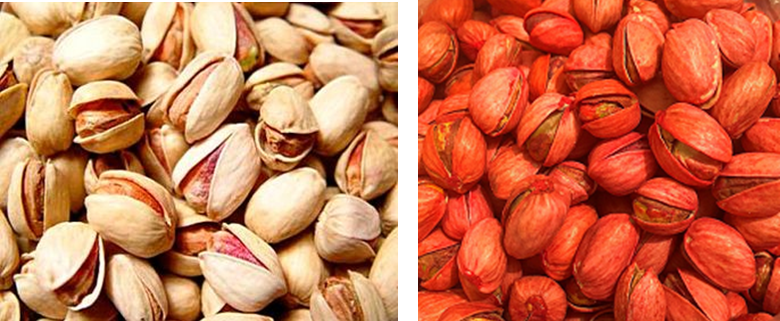 What is the quality of red pistachios Iran (salt and pepper pistachios)? What is the health of these pistachios? Are they suitable for entering the markets of different countries of the world and pass the FAO standard?
We want to talk in detail about red pistachios in this article. Some articles refer to these pistachios and have introduced them as poor pistachios. We do not have the correctness or inaccuracy of this matter. You must follow the following to buy pistachios so you can buy the best quality you want even if you buy a red pistachio.
Different Quality of Iran Pistachio
Quality variation in pistachio is very high in Iran. This has led customers to have a great choice. Experiences have shown that celery countries have a different taste in buying pistachios in Iran. Some enjoy the highest quality pistachio and demand some of the cheapest pistachios.
Fortunately, Iran's pistachio meets all these needs because of its high diversity. All qualities also pass the FAO standard and are suitable for export to different countries. (Of course, some countries have defined certain standards, in which case the buyer and the seller must pay attention to them.)
Order red pistachios iran with specific quality
Of course, in purchasing red pistachios, the buyer can choose the quality of his country from among different pistachios. So red pistachios can be processed from each of the different pistachio qualities.

In fact, red pistachios are raw pistachios that we process and flavor them. So, in order to order pistachios in the first step, select the quality of raw pistachio and then ask the supplier to process it for you.
As you can see, we can not say the quality of Iranian red pistachios is low. These pistachios are also required to meet the quality and standards when ordering from a reliable supplier.

Our Product List: The Catalog.
Our Way of Communication: Please contact us.
https://anatanuts.com/wp-content/uploads/2018/03/red-pistachios-iran.png
325
780
leyla nematzade
http://anatanuts.com/wp-content/uploads/2017/09/Picture1-300x286.png
leyla nematzade
2018-03-11 14:56:29
2018-03-11 09:04:22
red pistachios iran