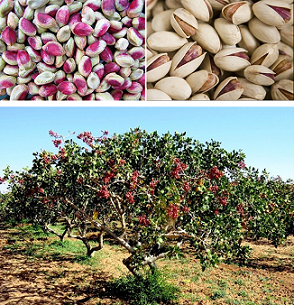 Do you know Persian Pistachio nuts? If you are a pistachio actor, you have certainly heard about the quality and taste of Iranian pistachios (Pesteh = پسته). In this article, we introduce Persian pistachios.
In Iran, pistachios are cultivated in different cultivars. Varieties that come in more than a dozens varieties. However, the most cultivated area belongs to five types of pistachios. The names of these figures are:
Pistachio Akbari: with commercial name Super long pistachios.

Pistachio Ahmad Aghaei: it's commercial name is Long pistachios. Also known as the AA Pistachios.

Fandoghi Pistachio: known as the round pistachio in the international market.

Kalleh Ghuchi Pistachio: Named as Jumbo due to its appearance.

Also Badami Pistachio:

Increasing the cultivation of this pistachio in recent years has caused this figure to be in the pile of Iranian commercial pistachio. And it is a Persian variety of pistachios.
These cultivars are the most important Persian pistachio nuts. The important issue we want to mention is the competitive advantage of Persian pistachio nuts.
Competitive Advantage of Persian Pistachio Nuts
What is the competitive advantage of Persian pistachio nuts to the types of pistachios that are produced in the world?
If you only eat Iranian pistachio nuts once, you will notice the difference and distinction. The unique flavor of Iranian pistachios is tangible. This has caused even American consumers to buy Iranian pistachios.
A very interesting point is that the five varieties have a taste difference. And each one has a unique and very delicious flavor. It is also one of the most important features of Pistachio Persian (Pesteh = پسته).
Iranian pistachios in raw and rough models are ready to sell and export to all parts of the world. Please contact us to inquire about your inventory and also the price of your product.
https://anatanuts.com/wp-content/uploads/2018/02/persian-pistachio-nuts.png
305
294
leyla nematzade
http://anatanuts.com/wp-content/uploads/2017/09/Picture1-300x286.png
leyla nematzade
2018-02-25 18:27:07
2018-02-25 18:27:07
persian pistachio nuts