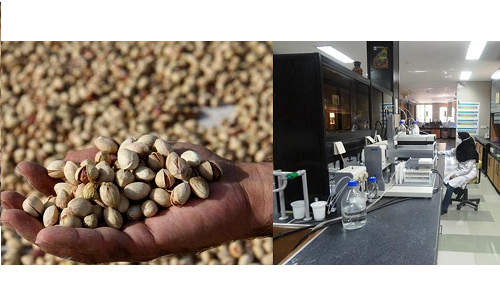 Do you want to pistachio nuts bulk buy for the UK? What are the rules and standards that the UK puts on imports of pistachios?
England is one of the customers of Iranian pistachios. The country has set standards for pistachio quality. These standards include both the physical properties as well as the chemical properties of pistachios.
Investigating Pistachio Chemical Properties in pistachio nuts bulk buy for England
Examining the chemical properties of pistachios in exports of pistachios to England is the first point that the exporter focuses on. The most important point is the limit of pistachio contamination with Aflatoxins. The amount of Aflatoxin in pistachios should be very low. Hence, the super quality pistachio, which has a very low Aflatoxin contamination, is suitable for export to the UK.
Aflatoxin toxin levels in pistachios with a super quality for Aflatoxin b1 are below 2ppb as well as for total Aflatoxin below 4ppb.
Investigating Pistachio Physical Properties in pistachio nuts bulk buy for England
The percentage of closed mouth pistachio, the percentage of foreign matter, also the percentage crooked mouth and etc., pistachios should be in super quality. In other words, the amount of these defects should be minimized. Therefore, the product needs to be fully saturated and hand-crafted. To get the best quality.

We declare the physical and chemical characteristics of Super Quality Pistachio below.
Super quality pistachio nuts bulk buy
 Aflatoxin B1 less than 2ppb


Also total Aflatoxin (B1 + B2 + G1 + G2) less than 4ppb
Physical characteristics of pistachio in shell/ Naturally Opened
 (Allowable tolerances by weight)
Superior Grade
Product Code – Anata Nuts Co.
PSG
1.Shell Defects (%)
Closed shell and blanks
1
Blanks
0.5
Adhering hull
0.5
Stained shell
1
Deformity (incl. opened from bottom)
1
Slightly open in-shell
5
Total shell defects
7
2.       Kernel Defects (%)
Loose kernels
1
Pest damage
3
Obvious pest damage
1
Total kernel defects
3
3.        Other Defects (%)
Foreign material
0
Foreign material excluding shells
0
Non-uniformity of variety
1
Non-uniformity of size
1.5
As you can see, this pistachio has a high quality. Therefore, it is suitable for export to the UK.
If you are considering other specific characteristics, or if you want to increase the quality of pistachios, you must inform us when ordering that the product will improve in the process of re-surfing.
You can check all pistachio quality in the catalog section. If you have any requests for correction or quality improvement, please let us know. Pleas contact us. Once agreed, you can quickly register your order.
https://anatanuts.com/wp-content/uploads/2018/01/Picture2-2.png
307
500
leyla nematzade
http://anatanuts.com/wp-content/uploads/2017/09/Picture1-300x286.png
leyla nematzade
2018-01-08 07:16:43
2018-01-08 08:20:54
pistachio nuts bulk buy uk