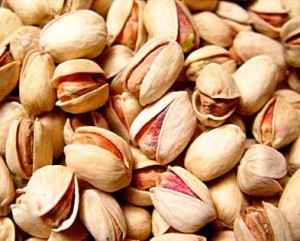 Kalleh Ghuchi pistachios is from coarse varieties of Iranian pistachio. This pistachio is sized in ounces 20-22, 22-24, 24-26 and also 26-28. Its brain is coarse. And also its taste is fantastic. Jumbo (kalleh ghuchi) pistachio price per kg is more balanced than pistachios of the same size in other varieties. That's why many consumers around the world like this pistachio.
After the Fandoghi pistachio, the second rank is in terms of production volume. It also ranks second in exports. The EU is from its customers. Countries like the UAE are also buyers of this pistachio. Pistachio kernels producers also use this closed mouth pistachio to process the brain.

kalleh ghuchi (Jumbo) pistachio kernels price per kg
Jumbo pistachio kernels is more coarse than Round pistachio. Of course, depending on the gram of pistachios, the brain will be larger or smaller. Experts in determining the quality and price of pistachio nuts pay attention to two of the following parameters:

After breaking the closed mouth pistachio, the producers break the broken brain from the healthy brain. The higher the percentage of the broken, the lower the brain price. The price of pistachio kernels with a lower fracture percentage is higher.
Jumbo pistachio and its kernels are also well sold in the domestic market of Iran. Iranian people like this pistachio because of its coarse nature. Jumbo pistachio price per kg is suitable, too. Nuts inns in Iran provide Jumbo pistachio nuts in various types of raw and roasted saffron. The Iranian also love Jumbo pistachio roasted salted.

Tabriz Green Diamond Pistachio (Anata Nuts) Co. is a manufacturer and exporter of all types of pistachios, including Jumbo variety. We introduce all our products in the product sector. We ranked the products in a number of quality. You can choose your qualities and contact us to order it.

https://anatanuts.com/wp-content/uploads/2017/12/Jumbo-kalleh-ghuchi-pistachio-price-per-kg.jpg
241
300
leyla nematzade
http://anatanuts.com/wp-content/uploads/2017/09/Picture1-300x286.png
leyla nematzade
2017-12-08 09:01:18
2017-12-08 17:25:54
Jumbo (kalleh ghuchi) pistachio price per kg