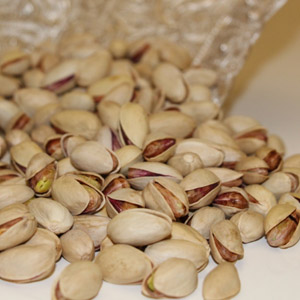 The year 2017-2018 is a high productivity year for pistachio trees in Iran. The demand for purchase from the global market is high. Therefore, pistachio exports have increased. Of course, due to the management of pistachio supply and rising dollar rates, pistachio prices have risen. High purchasing demand has also affected rising pistachio price.

There are also statistics on Iran's pistachio production below which is published by the Iran Pistachio Association.
iranian pistachio exports and production in 2017-2018
production of Fandoghi pistachio in 2017
Pistachio production is high. The size of Fandoghi pistachio, which is the most important export of Iranian pistachio, has become smaller. Currently, Fandoghi pistachios are available in sizes 30-32, 32-34, 34-36, 36-38. Fandoghi pistachio exports are mainly made to:
Russia

Kazakhstan

Hong Kong

China

and also European Union

production of
Ahmad Ahaghei

pistachio in 2017

The pistachio of Ahmad Ahaghei, harvested in 2017, is 26-28, 28-30 and also 30-32. Production of 24-26 Ahmad Ahaghei pistachio is low. Ounce 22-24 is also not nearly there anymore. The most important export destination for Pistachio is Ahmad Ahaghei, India, Kazakhstan, Russia, the European Union, as well as Qatar, UAE, and others.


Akbari pistachios and Kalle-ghuchi pistachios are large Iranian pistachios. These cultivars are available in sizes 20-22, 22-24, 24-26, 26-28 ounce. Akbari and Kalleh-Ghuchi pistachio with size 18-20 also available.


Tabriz Green Diamond pistachio (Anata Nuts) Company exports a variety of Fandoghi pistachios, Ahmad Ahaghei, Akbari and Kalleh ghuchi in super quality, first class, standard and second-class qualities all over the world.
https://anatanuts.com/wp-content/uploads/2017/12/pistachio-exports-from-iran.jpg
300
300
leyla nematzade
http://anatanuts.com/wp-content/uploads/2017/09/Picture1-300x286.png
leyla nematzade
2017-12-04 10:27:47
2017-12-04 17:41:25
pistachio exports from iran in 2017-2018