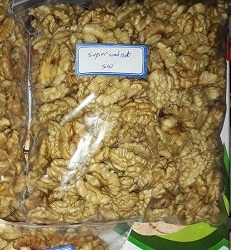 Super walnut kernels is a quality walnut kernels that has a white color and a low fracture percentage. Super walnut kernels has a fracture percentage below 5%. And its dominant color is white. Although the price of super walnut kernels is high, but in the use of walnuts as nuts, this product is more welcomed.
Among the qualities and varieties of the walnut kernel, as we have already mentioned, the white walnut brain is sold as a high quality walnut kernels. In fact, the darkening of the color of the walnut is due to reasons such as pestle, lack of proper harvesting time, improper walnut processing, etc. For this reason, we can say that the quality and level of health of the white walnut brain is higher. In processing and isolating super walnut kernels, the first thing that always comes to our attention is the same thing as the color of the walnut.
Percent fracture in super walnut kernels
The higher the percentage of fracture of the walnut brain, the higher the chance of oxidation. Therefore, in the walnut process, we try to reduce the percentage of the product to a fracture. This is the reason why the walnut kernel selection is less fracturing as super walnut kernel.
You can contact our sales experts to buy super walnut kernels or different quality walnuts. We will, for example, announce to the expert how to buy the product, so that we can offer you the best and most relevant product.
Our way of communication: Please contact us.
Also our product list: The Catalog.
https://anatanuts.com/wp-content/uploads/2018/09/buy-super-walnut-kernels.jpg
250
231
leyla nematzade
http://anatanuts.com/wp-content/uploads/2017/09/Picture1-300x286.png
leyla nematzade
2018-09-08 10:47:28
2018-09-08 09:57:04
buy super walnut kernels