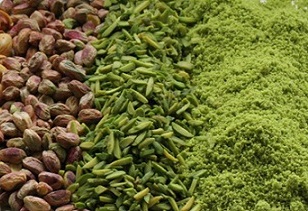 In buy ground pistachio nuts, there are a few things to keep in mind. Including the size of pistachios ground and its color.
The most important parameters in determining the quality and price of buy ground pistachio nuts include:
The size of pistachios powder
Pistachio powder color
Pistachio powder novelty
So, in buy ground pistachio nuts, we need to pay attention to these three parameters.
Choose quality in buy ground pistachio nuts
Depending on how we want to use pistachio powder, we choose a specific size among others. For example, two buyers might want to buy ground pistachio nuts for use in ice cream. But one wants consumers to feel pistachios under their teeth while eating ice cream. While the other wants to use powder and in fact pistachio flour for ice cream. So that pistachio flour is completely mixed with ice cream.
Also, the color of pistachio powder is also very important. Green pistachio powder, as a higher quality pistachio powder, has a high price tag. So, if the buyer wants a low-priced product, you can choose from lighter-colored pistachio powder. So picking a pistachio powder in buy ground pistachio nuts is completely dependent on its type of use. You need to ask your supplier to buy the ground pistachio nuts to give you the available sizes so you can have a more accurate selection.
The pistachio powder models sold by this company are presented in the catalog. You can download the catalog and see samples. You can also contact us for a quote for the price of the day.
Our way of communication: Please contact us.
Also our product list: The Catalog.
https://anatanuts.com/wp-content/uploads/2018/08/buy-ground-pistachio-nuts.jpg
211
308
leyla nematzade
http://anatanuts.com/wp-content/uploads/2017/09/Picture1-300x286.png
leyla nematzade
2018-08-01 09:11:40
2018-08-01 08:21:56
buy ground pistachio nuts