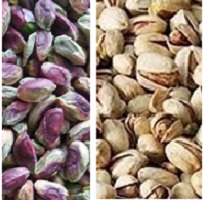 Jumbo salted pistachios are a variety of pistachios that are found in the stores. Are you familiar with the characteristics of this type of pistachio "jumbo pistachios"?
Jumbo in the word means giant and out of shape. But why is this name put on pistachios? Jumbo Pistachios is one of the pistachio cultivars. Which is known for its apparent appearance with this name. In fact, this kind of pistachio has large and bad shape seeds. In pistachio categories, we divide the pistachios into three groups.
Long pistachios
Also round pistachios
Jumbo Pistachios
The third group has a pistachio model. We call this pistachio Kalleh ghuchi. But the international market knows this pistachio called jumbo pistachios.
Jumbo salted pistachios for sale
We offer jumbo pistachios in a variety of jumbo salted pistachios or jumbo raw pistachios or flavored with other flavors. jumbo pistachios have unique characteristics. Below we talk about this pistachio group.
One of the most important features of jumbo salted pistachios is its extraordinary flavor. Raw jumbo pistachios are also very tasty and are of interest to consumers. We can introduce this pistachio as the most delicious pistachio. It has a large size. The large brains of this type of pistachio attract the interest of every customer. It has an ounce of 20 to 26.
This pistachio is also a good option for the production of pistachio kernels, because it has a coarse brain. So, we use the closed type of jumbo pistachios for process pistachio kernels.
From pistachio customers, we can introduce jumbo salted pistachios to different countries. Including the UAE, the EU and ….
Our way of communication: Please contact us.
Also our product list: The Catalog.
https://anatanuts.com/wp-content/uploads/2018/06/jumbo-salted-pistachios.jpg
200
203
leyla nematzade
http://anatanuts.com/wp-content/uploads/2017/09/Picture1-300x286.png
leyla nematzade
2018-06-26 18:23:08
2018-06-26 18:14:40
jumbo salted pistachios