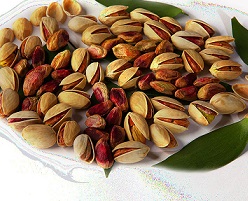 The bulk pistachio price in Qatar is being questioned by Qatari traders for Ahmad Aghaei, Fandoghi, Akbari and Pistachio kernels, which are among the favorite cultivars of the country's market.
Arab countries are Iranian pistachio customers. Including Emirates, Qatar, Iraq, and … are on the list of Iranian pistachio buyers. According to statistics released by the Tehran Chamber of Commerce, the volume of bulk pistachio exports to Qatar has exceeded 820 tons in 2017.
Pistachio price in

Qatar
But Qatar, what kind of pistachio likes? What is Qatar's taste for buying pistachios? Will products pistachios be exported to this country? Which types of products?
Among the various cultivars of Pistachio, Akbari Pistachio, Fandoghi as well as Ahmad Aghaei are the popularity of the Qatari market. Qatar often buys good grades of these cultivars. Fandoghi pistachios, Akbari and Ahmed Aghaei naturally opened with coarse size.
Of course, Qatar is not just a buyer of pistachios in the skin. It also buys a variety of pistachio products, including pistachio kernels. Among the various types of pistachio kernels, the Pistachio kernels also buys. Healthy kernels with good quality.
We will inform the buyer about the bulk pistachio price in Qatar for the above mentioned qualities. Of course, the buyer may also request other types of pistachios. In this case, we will respond to him as requested.
The packages we use to deliver pistachios and pistachio kernels for the Qatar country include a 50-kg bag package for the shell pistachios as well as a 10kg vacuum-cartoon package for pistachio kernels.
Our product list: The Catalog.
Also our way of communication: Please contact us.
https://anatanuts.com/wp-content/uploads/2018/04/pistachio-price-in-qatar.jpg
201
248
leyla nematzade
http://anatanuts.com/wp-content/uploads/2017/09/Picture1-300x286.png
leyla nematzade
2018-04-29 06:00:54
2018-04-29 05:06:21
bulk pistachio price in qatar