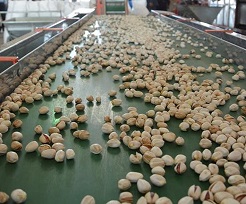 In order to buy pistachios from Iran, considering the existence of five commercial pistachios, you need to specify the model you want. Pay attention to the taste of the country in your choice of pistachio.
In the following, we introduce the types of commercial pistachios in Iran. This article provides comprehensive information on the types of Iranian pistachios. If you had a question after studying and you still could not select your product, you can contact us.
Iranian Pistachios



Iran's pistachio has 5 significant digits. These five cultivars are the most important pistachio cultivars because of the highest production.

Fandoghi pistachio



The highest pistachio production in Iran is related to this figure. Fandoghi pistachio has a rounded shape. That's why the brand is round pistachio. The tiniest type of pistachio is Iran. The size is 28 to 36. (The size of pistachio pistachio is set to ounce.)
The harvest season is earlier than other Iranian pistachio cultivars. For this reason, the growth of pests and mushrooms is less likely. Exports are exported to various parts of the world including the European Union, China, Russia and ….
Kalleh Ghuchi Pistachios



After Fandoghi pistachio, Kalleh Ghuchi pistachio has the highest production in Iran. The pistachio has been known as jumbo due to its appearance. Of the popular types in the Iranian market.
Of the large pistachios in Iran. The size is between 18-26 ounces. The harvesting season is after Fandoghi and before Ahmad Aghaei and Akbari.

Pistachio Ahmad Ahaghi
Pistachio Ahmad Aghaei is from a family of long pistachios. Known as long pistachio. The size is from 24 to 32. The most important feature is the whiteness of the skin. For this reason, it is also of interest to some customers like India.
Akbari pistachio
Akbari Pistachio harvesting season is the longest of all cultivars. These pistachios also are from large pistachios. The size is between 18 ounces to 26 ounces. The most popular type among Iranians. The global market call its, super-long. It is favorite of countries such as Iraq, Russia and ….
Depending on your taste, you can choose any of these figures for purchase.
Our product list: The Catalog.
Also our way of communication: Please contact us
https://anatanuts.com/wp-content/uploads/2018/04/buy-pistachios-from-iran.jpg
204
246
leyla nematzade
http://anatanuts.com/wp-content/uploads/2017/09/Picture1-300x286.png
leyla nematzade
2018-04-25 16:00:25
2018-04-30 16:53:09
buy pistachios from iran country