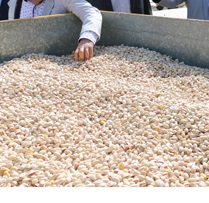 The price of pistachio in Turkey for the types of pistachio kernels used for confectionery and other open shell pistachios that are re-exported through this country are dependent on purchasing parameters according to the buyer and seller agreement.
Turkey is the consumer for variety of pistachio kernels and products such as Iran pistachio powder.  While for different quality pistachios open shell, it is often a sales mediator and in fact a re-exporter.
Pistachios price for sale in turkey
The green pistachios kernels, especially the kind of wild pistachio kernels, have a good and high sales in Turkey. Turkey has a good boom in the confectionery industry. The production and consumption of some cookies, including Baklava, is high in Turkey. One of the most important raw materials used to make Baklava is pistachio kernels or pistachio powder.

The Iran green pistachios kernels have a lot of fans from Turkey's Puffin Cookies. Because they both have a very good green color and are very wonderful in terms of taste.
Turkish traders also request other varieties pistachios such as the open shell pistachios. They often buy them for re-export, especially to EU countries. Often because of the ban on Iranian pistachios entering Turkey, merchants keep this cargo in free trade zones until it is resold to other countries.
Buy Iranian pistachio grades
Different countries of the world buy the varieties of Iranian pistachios. These products will have different prices for different qualities.
In addition to the differences in quality, other purchasing parameters also affect the final price of pistachios. Purchase volume is one of these parameters. And, of course, the terms of delivery agreed between the various Incoterms are also the purchase parameters that affect the final price of pistachio due to the cost side.
Our product list: The Catalog.
Also our way of communication: Please contact us.
https://anatanuts.com/wp-content/uploads/2018/04/price-of-pistachio-in-turkey-country-2.jpg
203
209
leyla nematzade
http://anatanuts.com/wp-content/uploads/2017/09/Picture1-300x286.png
leyla nematzade
2018-04-18 04:53:48
2018-04-18 04:53:48
price of pistachio in turkey country