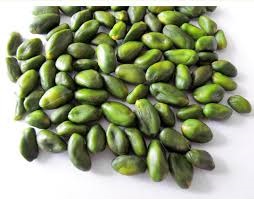 The green peeled pistachio kernel is one of the many types of Iranian pistachio kernels. In this article, we examine the types of the green peeled pistachio kernels.
Iran is the most important producer of the green peeled pistachio kernel. Iran exports this product to various countries of the world including the European Union. Food industry units use this product to fragrant and decorate their products.
The green peeled pistachio kernels are processed from unripe pistachios. The processing steps are somewhat complicated and require expertise. Because doing the wrong process causes the pistachio brain to lose its quality.
But as you can see in the picture below, the green two-green pistachio has several grades. How does the manufacturer rank the product?
Types of the

green peeled pistachio kernel
The few points about this kind of pistachio kernels are very important. The most important issue is the color of the pistachio brain. The greener color of the pistachio brain means higher product quality.

As the pistachio color of the brain tends to jaundice, the pistachio breeder puts the pistachio in a lower grade. For example, the grade B are greener than the grade C pistachio kernels.
Of course, the percentage of product fracture and its size are also the parameters most often the manufacturer consider in processing and separating its products.
Our Product List: Catalog
Also our way of Communication: Please contact us.
https://anatanuts.com/wp-content/uploads/2018/01/green-peeled-pistachio-kernel-1.jpg
205
254
leyla nematzade
http://anatanuts.com/wp-content/uploads/2017/09/Picture1-300x286.png
leyla nematzade
2018-01-27 07:00:15
2018-01-27 09:28:13
green peeled pistachio kernel