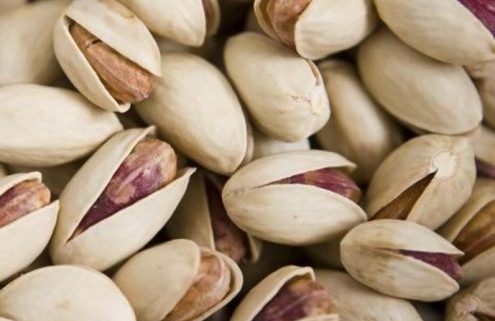 Inquiries for the pistachio price CIF Shanghai bags packing LC payment of the day, pleas contact with us. You need to know the products code. Read the details below.

Iranian pistachio price per kg of depends on several factors:
Pistachio cultivar: Akbari, Fandoghi, Ahmad Aghaei and Kale-Ghuchi
Its kind: in a variety of natural opened pistachio, mechanical opened, mouth closed
Pistachio Quality: Super, Class 1, Class 2, Standard.
The physical characteristics of pistachio and pistachio kernels are listed in the products section.
C

ode

of each product is listed in the table on price page. We also put it below.

Code
Quality
Size/ % meat
Type
Variety of Pistachio
 PSG-AA26
Super*
26-28
Natural Opened
Ahmad Aghaei Pistachio

 

 

 PG1-AA26
Grad 1
 PG3-AA26
Grade 3 – STD**
 PSG-AA28
Super*
28-30
PG1-AA28
Grad 1
 PG3-AA28
Grade 3 – STD**
 PSG-AA30
Super*
30-32
 PG1-AA30
Grad 1
 PG3-AA30
Grade 3 – STD**
 PMO-AAS50
Super*
50 gr
Mechanical Opened
 PMO-AA150
Grad 1
 PMO-AAS48
Super*
48 gr
 PMO-AA148
Grad 1
 PCS-AA50
50 gr
Closed shell
 PCS-AA45
45 gr
Code
Quality
Size/ % meat
Type
Variety of Pistachio
 PSG-A20
Super*
20-22
Natural Opened
Akbari Pistachio

 

 PG1-A20
Grad 1
 PG3-A20
Grade 3 – STD**
 PSG-A22
Super*
22-24
PG1-A22
Grad 1
 PG3-A22
Grade 3 – STD**
 PSG-A24
Super*
24-26
 PG1-A24
Grad 1
 PG3-A24
Grade 3 – STD**
 PMO-AS50
Super*
50 gr
Mechanical Opened
 PMO-A150
Grad 1
 PMO-AS48
Super*
48 gr
 PMO-A148
Grad 1
 PCS-A50
50 gr
Closed shell
 PCS-A45
45 gr
Code
Quality
Size/ % meat
Type
Variety of Pistachio
 PSG-K20
Super*
20-22
Natural Opened
Kalleh-ghuchi Pistachio

 

 

 PG1-K20
Grad 1
 PG3-K20
Grade 3 – STD**
 PSG-K22
Super*
22-24
 PG1-K22
Grad 1
PG3-K22
Grade 3 – STD**
 PSG-K24
Super*
24-26
 PG1-K24
Grad 1
 PG3-K24
Grade 3 – STD**
 PMO-KS50
Super*
50 gr
Mechanical Opened
 PMO-K150
Grad 1
 PMO-KS48
Super*
48 gr
 PMO-K148
Grad 1
 PCS-K50
50 gr
Closed shell
 PCS-K45
45 gr
Code
Quality
Size/ % meat
Type
Variety of Pistachio
 PSG-F30
Super*
30-32
Natural Opened
 Fandoghi Pistachio
 PG1-F30
Grad 1
 PG3-F30
Grade 3 – STD**
 PSG-F32
Super*
32-34
 PG1-F32
Grad 1
 PG3-F32
Grade 3 – STD**
 PSG-F34
Super*
34-36
 PG1-F34
Grad 1
 PG3-F34
Grade 3 – STD**
 PMO-FS50
Super*
50 gr
Mechanical Opened
 PMO-F150
Grad 1
 PMO-FS48
Super*
48 gr
 PMO-F148
Grad 1
 PCS-F50
50 gr
Closed shell
 PCS-F45
45 gr
Price list of pistachio kernels
Code
Quality
Type
Variety of Pistachio
 PKS-F
Super*
Fandoghi
Kernels
Pistachio Kernels

 

 

 PK1-F
Grad 1
 PK2-F
Grade 3 – STD**
 PKS-F
Super*
Kale-ghuchi
 PK1-F
Grad 1
 PK2-F
Grade 3 – STD**
Super*
Crushed
Grad 1
Grade 3 – STD**
 UPK-S
Super*
Unripe
 UPK-1
Grad 1
 WPK-S
Super*
Wiled pistachio kernels (Organic)
 WPK-1
Grad 1
Code
Quality
Variety of Pistachio
 GPPK-S
Super
  Green Peeled Pistachio Kernels

 GPPK-A
Grad A
 GPPK-B
Grad B
 GPPK-C
Grad C
 GPPK-D
Grad D
 GPPK-E
Grad E
 GPPK-F
Grad F
* Super: With Aflatoxin certification, acceptable of EU countries.
**STD: Standard Quality
https://anatanuts.com/wp-content/uploads/2017/12/pistachio-price-CIF-Shanghai-bags-packing-by-LC-payment-3.jpg
400
495
leyla nematzade
http://anatanuts.com/wp-content/uploads/2017/09/Picture1-300x286.png
leyla nematzade
2017-12-20 18:12:51
2017-12-22 09:16:53
pistachio price CIF Shanghai bags packing by LC payment