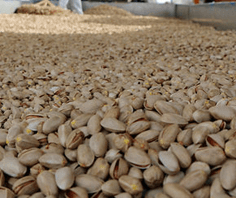 Pistachios export iran to the countries of Hong Kong, China, the UAE, Turkey, Vietnam, Germany, Russia, Kazakhstan, India, Singapore, Africa and more. Do these countries have the same standard in buying pistachios?
Different countries have different standards for trading and selling pistachios. The countries that we name below provide a more stringent stan dard than Codex on pistachio trade and imports.

Singapore




England




EU countries




And …
Pistachios export Iran to most of these countries is carried out. Of course, other countries like Russia, UAE, India, Turkey, etc., also enjoy the standard code, are the Iranian pistachio market.

How has Iran been able to answer this difference of taste? Of course, taste differences do not just relate to the standards of these countries (most of which are pistachio aflatoxins). Different countries have different taste choices in choosing the appearance of pistachios. For example, a country like Iraq loves drawn and coarse pistachios, while India loves white pistachios.

Iranian pistachios types
Fortunately, Iran's pistachios are diverse. There are 5 cultivars with the highest production in Iran. These 5 digits have different specifications relative to each other. In terms of quality and aflatoxin, pistachios can be divided into different qualities.

Therefore, Iran simply has the ability to meet the needs of different countries. Countries that differ in taste. For example, among Iranian pistachios, Pistachio Ahmad Aghaei is very suitable for India. Because it looks beautiful. This pistachio is a white peach skin and, of course, has a beautiful brain flower.
Akbari pistachio is also drawn and coarse. So it's a good option for the Iraqi market. And Fandoghi and Kalleh ghuchi and, of course, Badami, who use their customers and fans on the market.
Our product list: The Catalog.
Also our way of communication: Please contact us.
https://anatanuts.com/wp-content/uploads/2018/04/pistachios-export-iran.png
204
236
leyla nematzade
http://anatanuts.com/wp-content/uploads/2017/09/Picture1-300x286.png
leyla nematzade
2018-04-23 12:00:00
2018-04-23 08:17:18
pistachios export iran