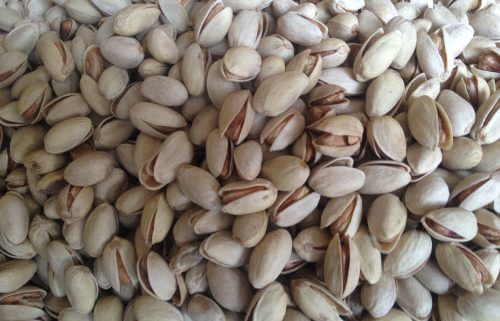 Mechanically opened pistachios are sold as cheap bulk pistachio nuts on the market. These products, in addition to the good price, also have an acceptable quality.
The open shell pistachios consist of two naturally opened pistachios groups and mechanically opened pistachios. The naturally opened pistachios are pistachios that open naturally on the tree. And the mechanically opened pistachios are close mouth pistachios that opened artificially.

These two types of pistachios differ in price. The difference in the quality of these two products causes their price differences. Sometimes the difference is more than 7 $.
The quality of cheap bulk pistachio nuts
The mechanically opened pistachios are cheap pistachios. The most important characteristic of these pistachios with the smelly natural pistachios is the size of the pistachio kernels. And the other is the taste and aroma of pistachios.

These pistachios are of interest to some merchants due to the suitable price at the same time acceptable quality. Particularly businessmen from China, Russia, Pakistan and … like these pistachios.
The most important issues that are considered in determining the quality of the mechanically opened pistachios are considered below:
1) Pistachio cultivar
2) Percentage of meat
3) Also size of pistachios
Each of the five pistachio cultivars of Iran is also a smiley mechanic. The percentage of meat of the mechanically opened pistachios is often in the range of 45 to 50 grams per 100 grams of pistachios. The size of the pistachio is also match with an ounce unit.
To buy bulk mechanical smelly pistachio nuts, please send us your requested quality. We will offer you the products available as per your request along with the price.
Please contact us.
https://anatanuts.com/wp-content/uploads/2018/01/cheap-bulk-pistachio-nuts-sale.jpg
375
500
leyla nematzade
http://anatanuts.com/wp-content/uploads/2017/09/Picture1-300x286.png
leyla nematzade
2018-01-23 10:27:25
2018-01-23 10:27:25
cheap bulk pistachio nuts sale