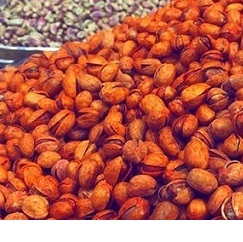 The combination of pistachio salt and pepper, in fact, are a flavored pistachio, which is very delicious. This product is of interest to many pistachio users, especially adolescents.
Combining pistachio with a variety of flavors such as salt and pepper, it delivers it several times. Oily seeds such as pistachio, walnuts, almonds and … are the most delicious food in the world. These products are more delicious than ever when they are flavored with flavored food. Enjoying these products will tempt everyone.
Delicious mix of pistachio salt and pepper
Pistachios from oily seeds are very tasty and delicious. Has countless fans in the world. Combining it with other flavors adds to its flavor. For example, the pistachio salt and pepper combination is a very tasty compound that encourages any consumer to use this product. Of course, the taste of pistachios is not the only reason to increase its consumption. The nutritional value of this product is due to the increased use of this product.
Pistachio Nutritional Values
Pistachio is rich in all kinds of minerals, vitamins, proteins and a very good source of unsaturated fatty acids. This foodstuff can be a good source for receiving various body parts of the body. For this reason, experts have recommended it for snacks and meals.
In fact, this is another reason for increased use of pistachios.
It is worth noting that the product can be used in both raw and roasted and flavored types. We use a variety of flavors to flavor pistachios. Including pepper and salt. The pistachio salt and pepper is very delicious and has a lot of fans on the market.
Our way of communication: Please contact us.
Also our product list: The Catalog.
https://anatanuts.com/wp-content/uploads/2018/08/bulk-pistachio-salt-and-pepper-sales.jpg
242
243
leyla nematzade
http://anatanuts.com/wp-content/uploads/2017/09/Picture1-300x286.png
leyla nematzade
2018-08-04 10:05:42
2018-08-04 09:17:55
bulk pistachio salt and pepper sales