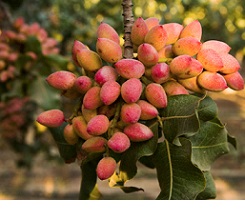 In the article "Pistachio Kerman Iran" we mention the most important pistachio production areas in Iran. Some regions of Iran are also becoming pistachio growing areas, as well.
Iran is one of the main poles of production and export in the world. Production of more than 200 thousand tons per year has made it one of the main producer and exporters of pistachios. Cultivation of pistachios is carried out in many areas of Iran.
Pistachio producers iran
Kerman province is the widest province in Iran. The area of agricultural crops is also high in the province. The most important crops in the province are pistachios. Cities in the province that produce pistachio are Rafsanjan, Sirjan, Anar, Shahrbabak and others.

Khorasan Province: The cultivation of pistachios is carried out widely in cities such as Bardaskan and Mahvolat. Now, after Kerman province, Khorasan is the second largest region in Iran in terms of annual pistachio production.
Yazd: The province has also been one of the pioneers in pistachio production in Iran. Khatam is the most important pistachio region in the province. Yazd has a third place among the provinces that produce pistachio.
Kashan


Qazvin




Fars

Some areas of Tehran
And areas are also developing pistachio cultivation and production that we can point to the provinces of East and West Azerbaijan. Cities like Marand, Azarshahr, Tasuj, Shabestar and … are cultivating post production in East Azarbaijan Province. Production in the province is increasing year by year.
Iran's pistachio has a very high quality. And it has an extraordinary flavor that does not have a similar world. For this reason, Iran has not only been able to maintain its old customers in the field of pistachio, but also adds to its global customers day by day.

https://anatanuts.com/wp-content/uploads/2018/04/pistachio-kerman-iran.jpg
214
245
leyla nematzade
http://anatanuts.com/wp-content/uploads/2017/09/Picture1-300x286.png
leyla nematzade
2018-04-12 10:49:59
2018-04-12 07:13:01
pistachio kerman iran