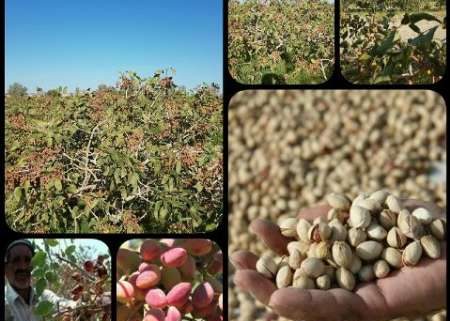 What types of Iranian pistachio are available for pistachio sale in world markets? Do you know about Iranian pistachios? What kind of Iranian pistachios are your customers?
Pistachios in shell can be classified into three groups of types:

Naturally opened pistachios
Mechanically opened pistachios
Closed shell pistachio
But another issue is the cultivar of pistachio. Different pistachio cultivars often have different physical properties. The most important difference is their appearance. The same appearance is also considered in their naming.
The most important pistachio cultivars of Iran are divided into four groups:

Round pistachios (Size: 28-30, 30-32, 32-34, 34-36 also 36-38 ounces)

Super Long pistachio (Size: 18-20, 20-22, 22-24, 24-26 ounces)

Long pistachio (Size: 24-26, 26-28, 28-30, 30-32, 32-34 ounces)

Jumbo Pistachio (Size: 18-20, 20-22, 22-24 as well as 24-26 ounces)

Of course, Badami pistachio has also flourished in international markets. Therefore, today we can introduce the five most important pistachio cultivars of Iran.
Also Badami pistachio

(Size: 28-30, 30-32, 32-34, 34-36 ounces)
The name of each pistachio clearly indicates its appearance. But the other thing is the difference in the size of pistachios. Different varieties have different sizes.
In the above, we wrote the size of each digit in front of it.
Pistachio sale on the market which country?
As you can see, Persian pistachio has a variety of type, cultivar and of course quality. Different countries have different tastes. Iranian pistachio merchants know the tastes of different countries. Therefore, based on this, pistachio exports are best suited to the destination.
Of course, you know the tastes of your customers in every country you are. Therefore, you can simply order Pistachio according to your country's taste.
We introduce various pistachio varieties in different types and qualities in the our catalog. You can simply browse the catalog by simply selecting your product and registering your order immediately. Please contact us.
https://anatanuts.com/wp-content/uploads/2018/01/pistachio-sale.jpg
450
450
leyla nematzade
http://anatanuts.com/wp-content/uploads/2017/09/Picture1-300x286.png
leyla nematzade
2018-01-18 18:25:19
2018-01-19 07:37:46
pistachio on sale