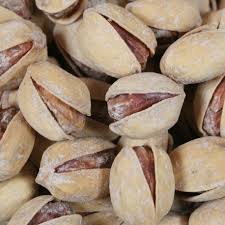 Roasted salted pistachio is a variety of flavored pistachios exported of Iran, which is sold in markets of different regions of the world, such as Russia.
Salt is one of the best flavors of all kinds of food flavors that is widely used in many industries. In the nuts industry, salt is used to flavoring the products.
We can use different flavors to process and flavor the pistachios. Including saffron, lemon juice, salt, pepper, etc. Among them, salt is the most common.
Roasted salted pistachio for sale
roasted salted pistachio is a favorite of many consumers. Both the domestic market of Iran likes these pistachios and the markets of countries like Russia and ….
Of course, given the fact that some experts consider excessive use of salt as harmful to health, low salt pistachios are preferable. Which customers have also welcomed.
Of course we use the salt in combination with other flavors. For example, the use of salt and saffron simultaneously for the processing of pistachios or the combination of salt with pepper and lemon, which will be salt-lime-pepper pistachios.
Of course, we prepare and sell the roasted unsalted pistachios. Because they consider some consumers to be harmful to themselves. And therefore, they are applying for flavored pistachios that do not contain salt in their composition.
You can choose from variety of flavored pistachios, kind of pistachios that are suitable for your country's consumption market. You can contact us to order and receive advice.
Our way of communication: Please contact us.
Also our product list: The Catalog.
https://anatanuts.com/wp-content/uploads/2018/01/Salt-pistachios-type-1-1.jpg
225
225
leyla nematzade
http://anatanuts.com/wp-content/uploads/2017/09/Picture1-300x286.png
leyla nematzade
2018-05-29 15:45:53
2018-05-29 08:36:35
roasted salted pistachio